Holiday Inn Key Largo Resort
With the largest tropical pool pavilion and Tiki bar in the area, get comfortable while surrounded by waterfalls, dive boats, and a true tropical feel of the Keys. Ideally situated on the Marina, steps from your dive boats, this hotel's location places patrons in the perfect position to take advantage of endless Florida Keys fun! Those seeking hotels in Key Largo for that relaxing tropical vacation or corporate retreat find the Holiday Inn Key Largo Resort to be just what they're looking for!
There's something for everyone at the Resort, including many different types of watersports, 2 pools, a fitness room, and casual indoor/outdoor dining at Bogie's Café. Directly next door on the marina, the beautiful restaurant Skipper's Dockside offers wonderful Caribbean style dining with a view over the marine. For groups, there's over 3k sq. ft. of flexible meeting space and an additional 2k sq. ft. outdoor Tiki Pavilion. All this right next to our boats and Dive Center and your first stop when exploring the Florida Keys! Ideal location for any vacation with resort amenities.
From days spent oceanside beneath the Florida sun to snorkeling and scuba diving adventures to romantic sunset cruises, Key Largo recreation is what vacation fantasies are made of. Take the family to John Pennekamp Coral Reef State Park to see the 30,000-gallon aquarium or get even closer to marine life by snorkeling or diving!
A 55-minute drive south from the bustle of Miami, Sea Dwellers & the Holiday Inn Resort offers Key largo diving packages in a quiet, relaxed atmosphere mixed with the best scuba diving & snorkeling in North America! For those of who want to get the most out of their visit with Sea Dwellers Dive Center and get the very best value, we have put together discount dive and stay packages. These Florida keys dive packages allow you to dive and stay with us at the best possible rates!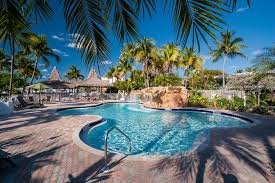 ---
"You don't have to pay first-class rates, for first-class diving in Key Largo.
Simply put, this is the best of the Key Largo Diving Package Specials in the Florida Keys, year after year!"
1-800-451-3640